Tony Andrews is an English Singer-Songwriter and Author born in Finsbury Park, North London.
Tony's album (Whatever Makes You Happy) has now been released by Big Fuss Records, in California.
12 songs to help cheer you up and blow your blues away 🙂 …
This album is on Spotify and Itunes.
Tony has just released a second album,
'JUKE BOX FROM THE BAMBOO BOOGIE BURGER BAR'
17 tracks …(12 acoustic tracks followed by 5 Rock tracks)
Tony writes everyday, he loves working on his songs and stories.
His book "7 Wacky Tales" is out now 🙂
(If you want to buy a copy just send an email to Tony)
SOME BACKGROUND INFO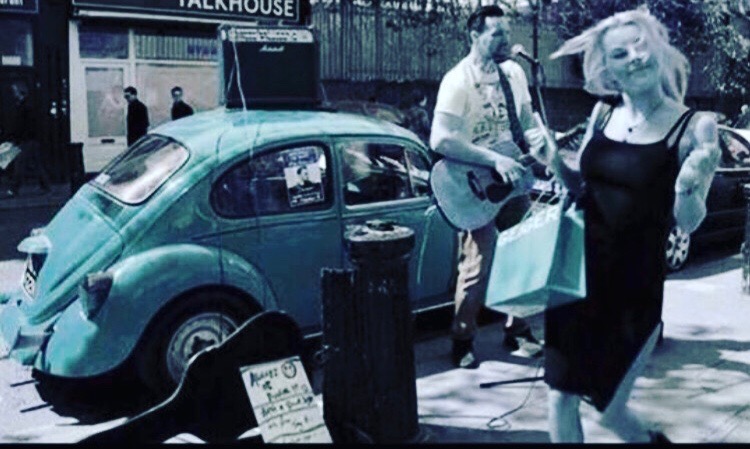 Tony had lots of fun playing in a couple of different rock bands, he's also performed many gigs as a solo artist.
His sister gave him an old ice-cream van (which they transformed together into a mobile key-cutting wagon), Tony started trading as a key-cutter down at Portobello Market twice a week (Weds and Fri).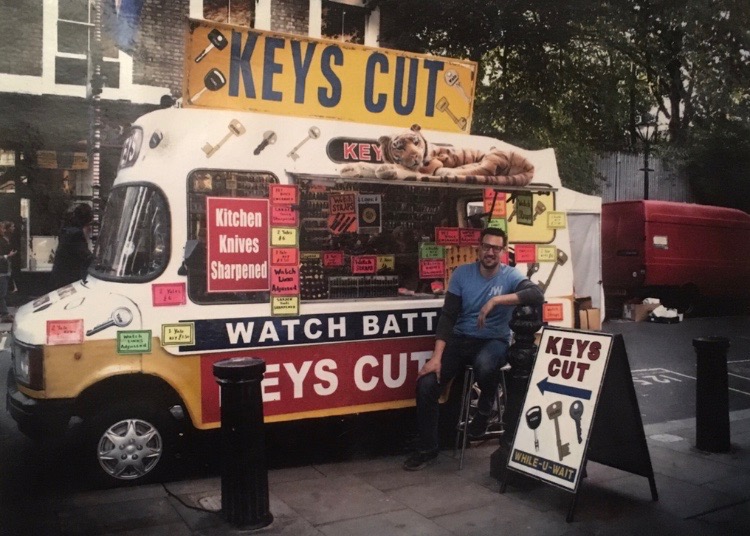 Tony kept busy cutting-keys, changing watch batteries, sharpening kitchen knives and engraving pet discs, but his favourite thing was singing out on Tavistock Square every Friday afternoon. Using his Marshall amp he'd belt out songs with his twelve string guitar and harmonica. Tony was often joined by his friend, Stephen Ellery, an exceptional saxophonist.


Tony pushed himself constantly, writing, performing, recording and producing his own songs at his local studio, sometimes acoustic projects, sometimes band projects. Around this time, some of Tony's songs were being played on Radio Caroline, Radio Verulam (St Albans), and WABG Radio in Mississippi.
Tony's deeply inspired by Brian Wilson's amazing album 'Pet Sounds'. He loves all kinds of bands and artists… The Beatles, The Kinks, Creedence Clearwater Revival and Led Zeppelin are his fav bands.
Tony will be back in the studio soon, recording some new material.
WRITING
Tony has thoroughly enjoyed writing 'Louise Buttersky' and 'Seven Wacky Tales,'
In his own words Tony finds writing to be cathartic and utterly delightful.
Tony loves the feeling of freedom that comes along with using his imagination.
He's very much inspired by Roald Dahl books and Wes Anderson films …
Tony is now working on his next book … "Louise Buttersky" (part 2)
Tony has something he'd like to say to all the hard working artists out there ……
'Your Art makes this world a more beautiful place, so please keep doing your thing, keep believing in yourself and never give up on your dream !!!' 🙂
Below are some of Tony's favourite Bands, Authors and Artists
The Kinks, The Beatles, Creedence Clearwater Revival, Bruce Springsteen, Roald Dahl, Louis Armstrong, Arctic Monkeys, Tenacious D, Dinah Washington, John Fogerty, Womack & Womack, Joseph Murphy(Author), Red Hot Chilli Peppers, John Legend, Ryan Adams, Amy Winehouse, Ray LaMontagne, Mandolin Orange, Shivaree, Arcade Fire, Foo Fighters, Kings of Leon, Aretha Franklin, Led Zeppelin, Johnny Cash, The Band, Van Morrison, Badfinger, Queen, The Beach Boys, Neil Young, John Lennon, Chuck Berry, Kate Bush, Prince, Peter Green's Fleetwood Mac, Emmylou Harris, Thin Lizzy, The Rolling Stones, David Bowie, Tom Waits, Nat 'King' Cole, Jimi Hendrix, Linda Ronstadt, Ray Charles, JJ Cale, Gram Parsons, Ella Fitzgerald, Alicia Keys James Brown, AC-DC, Marvin Gaye, Glen Campbell, Nancy Sinatra, Elvis, Roy Orbison, Al Green, Burl Ives, Robin Thicke, Bjork, Frank Sinatra, Dolly Parton, Lukas Nelson, Stevie Wonder, Bob Marley, Bob Dylan and Bobby Bland.