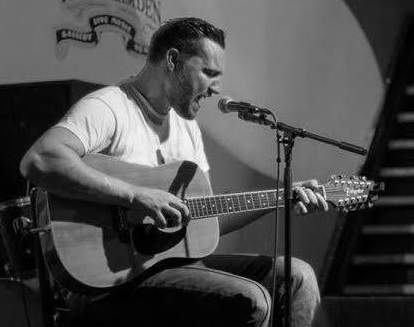 Tony Andrews is an English singer-songwriter, born in Finsbury Park, North London.
His debut album (Year of the Tiger) is now available on Itunes and Spotify.
Tony's single "Beautiful Day" got released by Big Fuss Records in California last July (2018). 
"Beautiful Day" is a happy positive tune about jumping in the car and heading off to the beach.
Tony's dog (Billy) is the story-teller in this song 🙂
Tony has just booked a session with some guys who are like 'The Wrecking Crew'. On 31st March 2019 they will all be going to the studio to record Tony's new song ….
'The Grandma Song' A very happy, catchy tune.
SOME BACKGROUND INFO
Tony was the singer/front-man and rhythm guitar player in his first Blues Rock band;
"The Blue Raccoons" (Three Blue Raccoon tracks are on Tony's Tiger Album).
EMI Music Publishing approached Tony after one of their gigs and encouraged him to bring "The Blue Raccoons" stateside. The band were unable to move to the states, and due to several reasons they broke up.
Tony continued his musical journey as a solo artist, gigging and performing wherever possible. His sister gave him an old ice cream van ( which she'd transformed into a mobile key-cutting wagon…cool sister 😉 ), Tony started trading, as a key-cutter, down at Portobello Road Street Market. Most Fridays, around lunchtime he'd close up shop and sing out on Tavistock Square, with his twelve string guitar and Marshall Amp. Tony was often joined by his friend, Stephen Ellery, an exceptional saxophonist(check out 'JENNIE' on soundcloud page). This is where Tony attracted the attention of a delightful songwriter ….. Michael Julien, Michael wrote "Kiss Me Honey Honey" sung by Shirley Bassey. Michael and Tony would occasionally write together. Tony pushed himself constantly, writing, performing, recording and producing his own songs at his local studio, sometimes acoustic projects, sometimes band projects. Around this time, some of Tony's songs were being played on Radio Caroline.
Tony then made an unexpected discovery at a family funeral. He found out that his great great granddad was Edgar Wallace, creator of 'King Kong'. 
This inspired Tony to write his debut novel, it's called "Louise and the Laundrette Lady" …..
A wacky (easy to read) adventure story full of eccentric characters, on a groovy mission…. (Available at Amazon).
Tony kept his creativity on the flow by writing songs about some of the characters in his book (KellyAnn, Max Redwood…both on the Tiger album).
Tony loves the 'creation process' in the studio, he is deeply inspired by Brian Wilson's amazing album 'Pet Sounds', and Marvin Gaye's masterpiece, 'What's Goin On'
Tony loves Rock music, the Blues, Americana (esp the concert film "The Last Waltz" by The Band), He loves acoustic music (Neil Young), Surf music, Soul, some Hip-Hop (His fav hip-hop track atm is 'Slow-Down' by Brand Nubian) and Country, (he loves a bit of everything).
He loves the art of songwriting and admires high quality songs in all genres. He's a big fan of Tom Waits.
Tony's always working on his songs, he currently has four new ones in the pipeline,
"New York to California" ….. (a song about a guy getting a ride across the states to see his dad, he gets picked up by a wild truck driver who likes 'holding-up' diners with his shotgun) …."The Grandma song" (which he'll be recording soon) A hearty song celebrating the life of an eccentric Grandma,
"Crazy for you" (A soulful country love song) and "Little Angel" (An acoustic love song)
He's working on a song called 'Elliot and Sally'…(this song is about an unhealthy relationship and how it gets turned around.)
Tony has something he'd like to say to all the hard working artists out there ……
'Your Art makes this world a more beautiful place, so please keep doing your thing, and never give up on your dream !!!' 🙂