1,
New Press release http://mi2n.com/press.php3?press_nb=203330
2,
BIG FUSS RECORDS signs Tony for his single "Beautiful Day"
Tony Andrews Selected As Big Fuss Records "Artist To Watch" For "Beautiful Day" In 2018
CAMPBELL, California. – March 14, 2018 – PRLog — Tony Andrews is an English Rock singer and songwriter, born in Finsbury Park, North London. He's been the front-man in gigging rock bands in and around London Town for the past 8 years.
Recently Tony Andrews was selected as a Big Fuss Records "Artist To Watch" for his song, "Beautiful Day". The song is about a day in the life of Tony's dog, "Billy" who loves the beach so much, that all he wants to do is fetch sticks from the sea, all day long. In "Beautiful Day" Tony sings "I'm gonna take a swim, in the big blue sea, there's a big old stick on the sand just for me, I'm gonna run like thunder, ramblin through those waves, no need to wonder, these are happy days."
In May 2018 Tony Andrews will go back into the recording studio to complete his Rock Track "IRON JOHN (SCARED OF LOVE)".
www.bigfussrecords.com
3,
REVIEW FROM Music Earth Rise, 11-11-14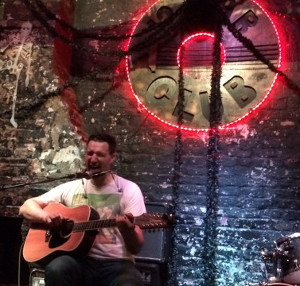 Tony Andrews delivers songs with simplistic lyrics and these lyrics are the vehicle for a relentless and awe inspiring voice which led to some awe inspiring songs and one hell of a performance straight from the gut.
Half way through the set I even saw a resemblance to Elvis! But Tony doesn't shake you by twisting his hips but by the consistency of a unique and raw voice with a raw honesty driven by raging raw passion.
The more I stood and listened, the more I was rocketed into respect and applause. By the end of the set I was singing along to his tunes and I thought where did this come from?
A night of three completely different artists that blew me away with authenticity through their voices, songs and performance. Tony Andrews was like a crescendo and ended the night on a high….a strong finisher to a high calibre night of raw creative expression.
Keep music live and thumbs up to the 12 Bar Club.